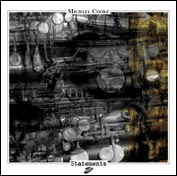 Michael Cooke
Michael Cooke: flute, soprano, alto, & tenor sax, bass clarinet, bassoon, rainstick, clapping, sleigh bells, singing bowl, tambourine, Chinese healing balls, Chinese cymbals, hooves shaker, nut shell shaker, Agogo bells
Produced by Michael Cooke.
All Engineering by Michael Cooke.
24 bit digital recording, mixing, & mastering during evenings, weekends,
& sick days from May - November 2001 at Black Hat Records, San Mateo, CA.
Cooke Quintet's CD

CKW Trio's
CD

Cooke Quartet's CD
These Sample are in Windows Media format. You will need to have Media Player.
The number limitied edition enhanced version is available from
Black Hat Records and CDBaby.